CS Book Store

EQUIPPING BELIEVERS, COACHING DISCIPLES, RESOURCING CHURCHES
Dr. Richard Clinton

Richard Clinton is the lead pastor of The Springs Vineyard in Colorado Springs, CO. He has been involved in a variety of ministry roles for more than 25 years: church planter, pastor, professor, consultant, leadership mentor, and trainer. He has had the privilege of ministering to leaders in many countries and enjoyed serving the Vineyard movement in the German-speaking countries while living in Switzerland for nearly 12 years. He lives in Monument, CO, and is married to Lora. He has three sons and one grandson.
---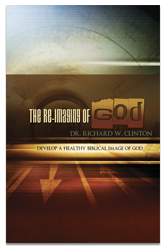 The Re-Imaging of God
by Dr. Richard Clinton
What do you really think God is like? How does your image of God affect you? How do you get a healthier, more accurate image of God? Your image of God directly affects how you interpret situations, interactions with other people, and what is going on in the world. You may not even be very aware of what you think God is really like. The Re-Imaging of God describes a process of discovery for both the accurate, positive images of God and the inaccurate, unhealthy images which affect your life. Correcting and healing your imaging is a critical aspect personal growth, and this book offers a practical Biblical methodology for "re-imaging" God. The end result is a new foundation and deeper relationship with God that can reorient and transform your life.
Please contact us for bulk orders and special pricing.