CS Book Store

EQUIPPING BELIEVERS, COACHING DISCIPLES, RESOURCING CHURCHES
William T. "Bill" Faris, MPC

Bill Faris has spent a lifetime relating to church leaders and pastors. He has over thirty years experience as a Christian leader who has served in large and small churches and as a church planter.
In 2000, Bill expanded the scope of his ministry after receiving his Masters Degree in Pastoral Counseling. Since then he has joined the Christian Counseling ministry of Marriage and Family Matters Counseling in Mission Viejo, California where he sees individuals and couples for counseling by personal appointment. At the same time, Bill maintains church leadership roles in Southern California.
Most recently, Bill has pursued opportunities to participate on teams specializing in providing intensive care for pastors on retreat. On these teams, he has utilized his background in counseling, marriage support, teaching, deep healing prayer and personal coaching to strengthen Christian leaders.
Due to the unique combination of Bill's training and experience, Christian leaders of many kinds have found him to be a trusted ally in their pursuit of their personal and spiritual health and in their quest to fulfill their ministry call.
Bill and Robin, a gifted nurse and professor of Nursing, have been married 35 years and have four children ranging in ages from the mid-teens to over thirty years old. His oldest son, Christopher Faris, is also a part of the team at Marriage and Family Matters.
Other Books and Writings By Bill Faris, MPC:
How Healed Do You Want to Be? (Ampelon Publishing, 2009)
The Sinkhole and the Mountain (2010)
Homegrown: Our First Steps in Bringing the Church Back Home (2011)
Gracelets, a weekly free e-newsletter, is available by writing Bill Faris at Bill@mypastoralcounselor.com
---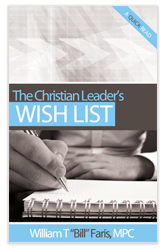 The Christian Leader's Wish List
by Bill Faris, MPC
The Christian Leaders' Wish List speaks straight to the hearts of men and women who are fulfilling their call to a lifestyle of Christian leadership. While every minister faces unique challenges, many stresses are widely experienced, and this book addresses six of the most common wishes leaders express. This concise, useful, and uplifting volume offers timely encouragement and practical tools in a format that can be read in about an hour and referred to again and again as a personal resource. Topics covered in this book:
"I Wish I Could Find Stress Relief"
"I Wish For Some Close Relationships"
"I Wish I Could Prioritize My Personal Development"
"I Wish I Could Thrive Through Transition"
"I Wish My Marriage and Family Could Be Renewed"
"I Wish I Could Run Long and Finish Well"
Please contact us for bulk orders and special pricing.