CS Book Store

EQUIPPING BELIEVERS, COACHING DISCIPLES, RESOURCING CHURCHES
Peter Fitch, D. Min.

Peter Fitch
(D.Min., Fuller) has been teaching at St. Stephen's University in St. Stephen, New Brunswick, Canada, since 1979. He is currently Dean of Ministry Studies, teaching courses in Religious Studies, Phil-osophy, and Postmodern Christianity. He is also on the Faculty of Westminster Theological Centre in England, where he teaches History of Christian Spirituality. Peter and his wife, Mary Ellen, along with a group of friends, planted St. Croix Vineyard Church in 1992, and they continue to share in pastoral leadership there. They have four grown children: Hannah (married to Will, parents of Sophie and Ari), Noah (about to marry Cara), Zoe (married to Dave) and Isaac (in love with Ariel).
---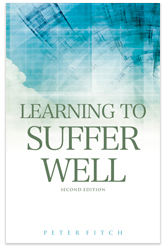 Learning to Suffer Well
by Peter Fitch
Learning to Suffer Well is an interactive devotional study designed to help you think through some of the Bible's teaching about how to face suffering in different situations. It is meant to force you to interact with ideas from the Scriptures in such a way that you will be challenged to grow as a Christian in terms of understanding, honesty, behavior, attitude, and level of spiritual maturity.
Please contact us for bulk orders and special pricing.