CS Book Store

EQUIPPING BELIEVERS, COACHING DISCIPLES, RESOURCING CHURCHES
Coaching Saints Store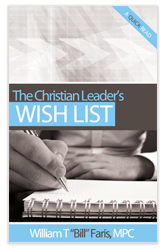 The Christian Leader's Wish List
by Bill Faris, MPC
The Christian Leaders' Wish List speaks straight to the hearts of men and women who are fulfilling their call to a lifestyle of Christian leadership. While every minister faces unique challenges, many stresses are widely experienced, and this book addresses six of the most common wishes leaders express. This concise, useful, and uplifting volume offers timely encouragement and practical tools in a format that can be read in about an hour and referred to again and again as a personal resource. Topics covered in this book:
"I Wish I Could Find Stress Relief"
"I Wish For Some Close Relationships"
"I Wish I Could Prioritize My Personal Development"
"I Wish I Could Thrive Through Transition"
"I Wish My Marriage and Family Could Be Renewed"
"I Wish I Could Run Long and Finish Well"
Please contact us for bulk orders and special pricing.