CS Book Store

EQUIPPING BELIEVERS, COACHING DISCIPLES, RESOURCING CHURCHES
Coaching Saints Store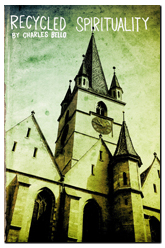 Recycled Spirituality: Ancient Ways Made New
by Charles Bello
Reading Recycled Spirituality is like browsing through a mysterious, ancient resale shop filled with treasures from the rich heritage of historical Christianity. Many of the ancient spiritual disciplines have continued to be in use for thousands of years, others are being newly rediscovered. These classical disciplines are drawn from our shared Catholic, Orthodox, Protestant, Evangelical, and Pentecostal traditions.
In his own quest towards deepening his relationship with God, Charles pulls out these ancient treasures, dusts them off, practices them himself, and then updates them for a new generation. Recycled Spirituality is written as a practical handbook to encourage and equip readers to push the borders of their own experience and personal faith traditions to encounter God in fresh ways. The purpose of these encounters is always transformation, renewal, and missional living. As Charles writes in this book, "The gift of tradition is meant to be received. The essence of tradition is meant to be rediscovered. And if the practice of a tradition helps form you into the image of Christ, it is meant to be recycled."
Please contact us for bulk orders and special pricing.